Why Most Chinese Women PREFER Dating Men Over 50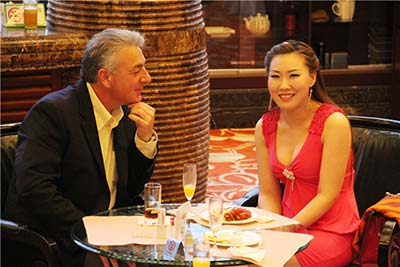 It's common for older men wanting to date women who are younger than them. Relationships with a huge age gap have become a normal thing, but the world has yet to face the truth that love between two individuals with huge age disparity exists. An older man in his 50's or more, especially if he is still in good shape, can still enthrall women in their early 20s and 30s. Some of these couples would eventually get married.
If you're a man over 50, that would be good news to you, especially if you're looking for a younger woman to spend the rest of your life with. But where do you find such a woman? Young and pretty women abound in several online dating sites, so the first thing you need to know is which particular site they are found.
The first faces your eyes land on would be Chinese women. Due to the country's beliefs and perspective toward dating, the population of their singles has increased. These women are smart and independent and who, because of the high divorce rate and cultural factors of the country, remain single even at their prime—that is, even at their late 20's or early 30's.
Struggles of Chinese Women in the Local Dating Scene
Due to long-held cultural preferences, Chinese men choose women who are lesser than them in terms of earning, social status, or education. But as each Asian woman is taking her space in the world, fighting for gender equality, and claiming responsibilities and successes than ever before, a Chinese woman, on the other hand, finds herself struggling in the dating scene simply because of her status quo.
Because of this pre-existing dating perspective, single Chinese women face the pressures in finding their life partners. Even their parents take part in the societal pressure by finding their daughters' partners by themselves. For them, going through divorce is better than not being married at all.
The Rise of Leftover Women
In the past, unwed women weren't that problematic because arranged marriages are the most common form of marriage in ancient China. But this tradition has phased out Now more than ever, single women in the country face heavier pressure to date and marry before they reach society-defined age fit for marriage. Professional women aged 27 (or older) who still haven't settled down will be called "sheng nu", which is a derogatory term meaning leftover women.
These women find living up to societal pressures twice as hard as men. Given the one-child policy in China, more parents prefer having sons, which partly explains why there are already 30 million more men than women in the country—a sizable portion of which are of marriageable age. On top of being obligated to get married, each daughter is expected to succeed and go to a university, start a career before slowing down or stop everything to get married at some point.
These "sheng nu'', who are most likely educated, career-driven, and successful professionals, are usually regarded as being far from traditionally appealing women. With a tough personality, independence, and intelligence, these women may find it difficult to conform.
Seeking love from foreign men
With all these difficulties, an increasing number of single Chinese women have developed preferences for Western, older men who they believe will accept them for who they are. Traditionally, women prefer being married to men who are, on average, 10 years older than them.
Aside from practicality and romantic idealism, here are more reasons why she chooses foreign men over 50 and older than that:
Tradition

Her adherence to culture and traditions is what to expect when dating a Chinese woman. As such, you being the older partner, is just what she's looking for in a relationship. She has this preconceived notion that older men are better in terms of protecting and caring for their spouses.



Acceptance

As someone from the West, perhaps you didn't have an inkling that a Chinese woman's success is actually counterintuitive to her viability for marriage. She knows that Western men are most likely unafraid of partnering with intelligent and successful women and that her tough personality will not scare you.



Adventurous

She thinks that even if you reach 40, 50, or older, your youthful vibes and excitement in life still remain. That is most likely true. After all, the fact that you're still looking for romantic excitement among women who are younger than you proves it. That means you're an adventurer by heart so your marriage wouldn't be stale at all.



Financial stability

There is nothing wrong about a woman who looks for financial security before dating a man and getting into marriage talks. But that doesn't necessarily mean she's a gold digger. It just means that she wants to be with a man that pulls his own weight in the marriage. She also wants men who are stable in other aspects, such as mentally and emotionally. In short, she wants to be with a man—not a child.



Travel opportunities

Who doesn't want a change of scene and a dose of excitement? Most often than not, your young Chinese date sure does have her travel fancies and hopes to experience other places than her home country.



Wisdom and confidence

Older men generally have more life experience. With all those years and experiences behind you, you're probably living out the lessons you've picked along the way. You've most likely also encountered a considerable number of women and don't feel that much pressure to approach them. You don't waste your time with others and only approach those you are really interested in. This single-mindedness is what attracts Chinese women to older men.
Don't miss out!
Dating foreign women is always a give and take situation. In the case of dating Chinese women, you gain a lot from her resilience, youth, and adaptability. At the same time, she can take after your maturity, insights, and stability. There are more challenges with international dating, but as long as you choose the right woman and stick with your commitment, you too can find happiness and contentment.

Newest, beautiful, single women now added for week of Wednesday, 6 December, 2023 - Tuesday, 12 December, 2023
You have to meet the women to marry them! What other international dating site offers you numerous opportunities to do that?