Starting Online Conversations with Chinese Women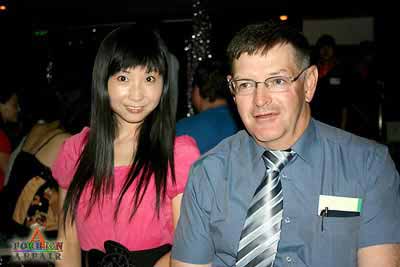 An estimated 1% of the Chinese population speaks English. If you're visiting China, the chance of meeting English speakers depends on where you're at (with major cities probably having the most fluent speakers). But even in major cities, you may not encounter English speakers that much outside your hotel reception or tour operator's staff.
However, there are a number of Chinese people who understand and speak English but are just shy about speaking in that language. In the case of online dating, these people are Chinese women who are open-minded enough to seek for partners from the far West. These don't mind overcoming any language or cultural barriers to be with the right man.
If you are looking for a Chinese woman yourself, the first step to meeting her is to know how to start a conversation or how to treat a Chinese woman, especially during the initial stage of dating online. In order to have an engaging and revealing conversation with your date, follow these tips:
Prepare your Chinese name
Leave her some super cool first impression by introducing yourself to her in a Chinese name with a story behind it. Unlike in Western culture, the Chinese put more thought in their names. From the surname down to the given, one's name can reveal a lot about the person's character. So make sure to come up with a really well-thought name for yourself. This will be a surefire way to keep her attention online.
Learn some Chinese phrases
If you want to know how to impress a Chinese girl and at the same time break the ice, the best thing you can do is learn beyond saying "hello". Even if it's just little words such as "Nǐ hǎo" and "Zàijiàn", she will appreciate your efforts. It's really not that necessary but it helps when you want to establish a long-term relationship with her.
Learn Mandarin (or whatever is the local dialect in the region) step-by-step with the help of your date and you might become good at it. Remember, the best way to learn a new language is with a romantic partner. She'll be more than glad to teach you some phrases. Learning her language may also correlate to you learning about her culture, which means a bonus in leaving her some good impressions.
Keep Chinese culture in mind
Chinese women are usually known for being diffident and conservative. But really, that's not the case for the modern Chinese. Nowadays, the number of highly educated and career-successful women is increasing. This means that more and more Chinese women don't conform to the demure stereotype.
On the other hand, the Chinese are also known to be vocal and expressive. But that can be a good thing, especially if you're fed up with people speaking gently.
The point is that it's better to take these stereotypes with a grain of salt. Leave your preconceptions behind because not all Chinese or Asian women behave the way you think. It's more than likely that the girl that you're dating has her own set of characteristics.
Aside from that, don't let any differences in your cultural backgrounds go in the way of your conversations. As a matter of fact, it's all the more reason for interesting conversations, and you both are far more likely to have more things in common than differences.
Be honest
Chinese people value and practice honesty. During the online dating stage, your honesty, sincerity, and trustworthiness are what turns a Chinese woman on. For most Chinese women, dating is a serious journey because they see it as the very step toward a long-term relationship, and ultimately, to marriage.
In your online conversation, be keen about gaining her trust. Be open about your feelings for her or what you are looking for in a relationship. Honesty is very important in relationships, you know.
Keep her engaged
With online dating, you have a lot more time to run through her social media accounts and learn something about her. Whatever information she shares on her profile would be enough to start and keep your conversations going. Looking through her hobbies and interests may not be illegal; but if you go overboard, whatever additional information may cloud your judgment of her. You can research a little, but make sure to keep the mystery alive.
She will likely be more interested in who you really are, which is what makes her very different than any Western girls you might have dated before. If you're used to dating women who are much into which places you can bring them or what you can do to them, dating a woman who's more interested in you than what you can offer is the new normal.
She will love knowing about your personality, your childhood, and even ask you about things that you don't normally talk about. Basically, Chinese people may ask foreigners about things that may be uncomfortable for them but that's the fun of it. The best thing you can do is to keep her interested in you.
Get to know more about your date
Much like with any culture, some topics are not to be talked about. Politics is one example because it tends to cause division among people. For the first few dates, try to stick to safe topics like food and hobbies. Remember do not rush in asking her personal questions, such as her salary or even problems because these are the things that you cannot yet ask in the outset. Instead, focus more on enjoying the conversation. By doing so, you would be surprised that, despite having completely different cultures, you actually have a lot of things in common.
The point of conversing with your date is to really get to know her. No amount of research on her background would provide insight into what she's really like. So your best source of information is your date herself. And if you pay attention to what she's saying, anytime soon, you will be able to meet your online interest among Chinese women face to face. You can hit it right online as long as you know how to engage with her through conversation!

Newest, beautiful, single women now added for week of Wednesday, 6 December, 2023 - Tuesday, 12 December, 2023
You have to meet the women to marry them! What other international dating site offers you numerous opportunities to do that?